Media Kit

> Profile of Mr. Ambrish Chheda
| | |
| --- | --- |
| Ambrish Chheda - Profile | |
Chairman & Managing Director, MasterClassTM Training & Consulting LLP
With 4 degrees to his credit
-
B.Com, PGDBM (Syd), LL.B. and A.C.S.
–
Ambrish has spent the past 25 years
transforming businesses in Retailing, FMCG, Telecom, Manufacturing &
Consulting Industries. He is known for
uncompromising pursuit of excellence, simplified solutions with focus on execution and an eagle eye for the big
picture as well as detail.
He has taught short courses on
Strategy, Marketing & Retailing
at the
Co
rnell University, We School
(Welingkar Institute of Management Development & Research, Mumbai),
Goa Institute of Management
. He was
also guest faculty with a few Management Schools associated with Mumbai University to deliver lectures on
Strategy, Marketin
g & Retailing.
Ambrish is the driving force of the MasterClass
TM
Training & Consulting LLP and is the architect of the workshop
course on
"StrategySimplifiedTM
MasterClass
TM
-
How to Make & Execute Your Company's Strategic Plan."
For the first time in India, delegates at this workshop develop a 2 to 4 PAGE Simplified Strategic Plan & Execution Plan for their companies. He is also the architect of the
RetailingSimplified
TM
MasterClass
TM
& MarketingSimplified
TM
MasterClass
TM
Workshop Courses.
He was
VICE PRESIDENT of ADITYA BIRLA RETAIL LIMITED
and a core team member responsible for
developing the supermarket & hypermarket format strategies for
Aditya Birla Retail Limited's
retail foray under
the brand name
"MORE".
The g
roup is looking to be amongst top three players in the Indian Retail Industry with
investment of Rs. 15,000 crore.
Earlier, as a
Chief-
New Business Development
for FUTURE GROUP'S
PANTALOON RETAIL INDIA LIMITED
he was responsible for
strategizing & setting up new business divisions
including
Food Bazaar
, a leading chain of supermarkets.
Food Bazaar is over Rs. 1,000 crore business
. As a member of the core team, he played a significant role in Pantaloon Retail India Limited's (a part of 'Future Group')
phenomenal growth. It is today India's largest organized sector retailer with sales turnover of over Rs. 9,000 crore.
As a thought leader, he has been
interviewed over 50 times
by the national press, including Economic Times,
Financial Express, Times of India, The Hindu, Deccan Herald, and Indian Express.
He is often invited by several Industry Organizations like
CII, FICCI & Maharashtra Chambers of Commerce &
Industry
to s
peak at their seminars.
The Government of India, Ministry of Communications, invited him on the
advisory board of MTNL
, Mumbai, for a
term of two years. He was re
-
nominated for another term of two years on the
advisory board of Maharashtra
Telecom ci
rcle.
He was invited to be a member on the "Task Force for Food Processing & Agriculture" constituted by
FICCI
(Federation of Indian Chambers of Commerce & Industries).
He was invited by the
Western Australian State Government
to lead a delegation to Australia on the occasion of
launch of "Food Export Strategy Report' highlighting India's Imported Food Market Opportunities & was a speaker
at the seminar chaired by Mr. Kim Chance, Minister for Agriculture, Western Australian Stat
e Government.
He is widely
travelled
internationally and
has worked in USA for two years
.
Almost always a life of parties, he believes in living life to the fullest. Ambrish's interests cover: Singing at parties, squash, table tennis, dancing, theatre
(he has won a couple of best actor awards in inter-collegiate drama competitions during his college days), music concerts, public speaking (he has trained hundreds of students from age 15 to 75 on the art of public speaking), writing, reading, organizing knowledge sharing events for business community, and wildlife excursions.
Ambrish's role as a leader is to focus on strategy, growth, and the quest to continually improve every aspect of the experience customers have with MASTERCLASS
TM
. If you're faced with a challenge in your business and need to know what options exist to help
you get to the Next Level, you need to speak with Ambrish.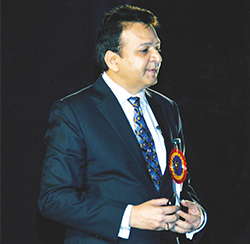 Strategy & Marketing Guru Ambrish Chheda
Core Purpose & Mission
Core purpose & mission of MasterClassTM is to contribute, in our own way, to the economic development of our country by helping Indian organizations and individuals reach the next level of success, by providing simplified training programs, tools, & consulting services, through various mediums across the country, through professionals with practical industry experience.